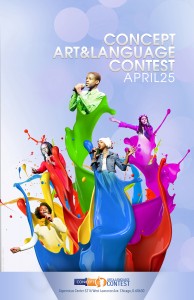 3rd CONCEPT ART & LANGUAGE CONTEST
CHICAGO, IL    APRIL 25,  2015 1:00 pm to 4:00 pm
2015 Concept Art and Language Contest  held  in Chicago, IL
at Copernicus Center [5216 W Lawrence Ave, Chicago, IL 60630 ] on April 25, 2015.
contest schedule (click to download)
Concept Art and Language Contest was held at Copernicus Center in Chicago on April 25, 2015.
There were 12 songs, being 7 Turkish, 3 Spanish and 2 English in the Singing category. Oluwakemi Oyedokun from CMSA is the winner of English songs with her song, Don`t stop believing. Biviana Benitez from HSA McKinley is the winner of Turkish songs with her song, Sad olup gulmedim. The winner of Spanish songs is Essynce Mitchell from HSA Cleveland with her song, Vivir mi vida.
In the Folk Dances category, we watched 9 amazing performances. There were dances of Turkish, Hispanic and African cultures. The Hispanic folk group from HSA Toledo is the winner of Hispanic folk dances. The winner group of Turkish folk dances is  HSA Dayton Downtown Turkish dance group. IMSA South African dance group is the winner of guest cultures.
PRE-ELIMINATIONS (done)
Day 1 : Wed. March 4, 2015 in Chicago, IL [for Chicago, Milwaukee, Peoria, St. Louis, Indianapolis, Minneapolis schools]
Adress: TASC building :
501 Midway Dr. Mount Prospect, IL 60056  (between 10:00 am – 2:00 pm )
Day 2 : Thu.  March 5, 2015 in Dayton, OH [ for Dayton, Cincinnati, Columbus schools]
Address: Turkish American Society
2601 E 4th St, Dayton, OH 45403    (between 10:00 am – 2:00 pm )
Day 3 :  Fri.   March 6, 2015 in Lorain, OH   [ for Lorain, Cleveland, Youngstown, Toledo, Detroit schools]
Address: HSA Lorain School
760 Tower Blvd. Lorain, OH 44052   (between 10:00 am – 2:00 pm )