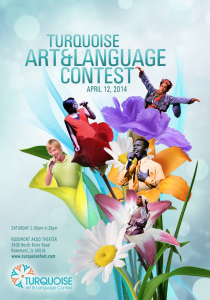 2nd TURQUOISE ART & LANGUAGE CONTEST
CHICAGO, IL APRIL 12, 2014
2014 Turquoise Art and Language Contest organized by TAS (Turkish American Society) was held at Rosemont Theatre  in Chicago, IL on April 12, 2014
The performance order of the contestants and folk dance groups who are qualified for the Final as a result of the pre-eliminations in March:
click for EVENT SCHEDULE
The whole event link on Youtube
Turquoise Art and Language Contest was held at Rosemont Theater in Chicago on April12, 2014.The songs and folk dances were amazing. The dancers and singers were gorgeous in their colorful and beautiful costumes.
There were 11 songs, being 7 Turkish, 3 Spanish and 1 English in the Singing category. Dinalda Bita from Detroit, MI is the winner of singing category with her English song, Feeling Good. Biviana Benitez from Chicago, IL is the runner up with her Turkish song, Sessiz Gemi (The Silent Ship). And, the third place winner is Asanatu Kamara from Columbus, OH with her Turkish song, Bir Tanriyi Bir de Beni Sakin Unutma ( Do Not Ever Forget Me and God).
In the Folk Dances category, we watched 14 amazing performances. There were dances from various geographies and cultures like Turkish, Hispanic, Balkanic, Indian and African. The Hispanic folk group from Toledo, OH is the winners with their Ecuadorian folk dance featuring the Incas weaving carpets and rugs. The runner up group is the Bosnian folk dance music theming the men and women baking bread. The Turkish dance group from Dayton , OH is the third place winner with their dance showing rural people as cooking at backyard and working in the fields.